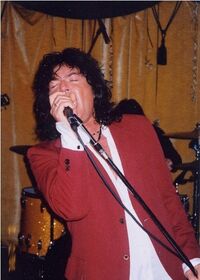 Tommy Love is a vocalist from Troy, New York who has been performing with the members of Super 400 as 'Blue Machine' since the late 1990s. Tommy has also performed as lead vocalist with the seven-piece rock band Blue Hand Luke, Tommy Love And The House Rockers, and others including Sid, Raven, Rocks, Classy Trash, The Accent Band, and The Buckadelics.
With Blue Machine, Tommy is well-known for his improvised vocal interludes, a combination of singing and spoken word, which are oftentimes peppered with profanities, stories of infidelity and sexual references. These improvised interludes are frequently featured near the end of the band's cover of the song "One Way Out." Tommy's vocal style and stage presence are strongly influenced by rock frontmen Mick Jagger, Robert Plant, and Steven Tyler, among others.
Tommy has made many unannounced appearances onstage with Super 400, most often at performances that have taken place in Troy, NY.
In 2003, Tommy sang vocals on the song "Funny Cide," recorded by Blue Hand Luke as a tribute to the New York-bred race horse who won the Kentucky Derby and Preakness Stakes the same year.
On November 25, 2009, a benefit show entitled "Rock For Love" was held at Revolution Hall in Troy, NY to help Tommy with medical costs from a recent bout with kidney cancer. Mysteios, Saville Row, Blue Hand Luke, Super 400 and Blue Machine performed at the concert, which marked Tommy's first live performance since becoming ill earlier in the year.
External links
[
]
References
[
]
Wilcock, Don "[1]". troyrecord.com.